Funky Friday
Welcome to Funky Friday! Each Friday I'll post some juicy links to take you through the weekend before really getting going again on Monday.
Props to our own Sulaiman Abdur-Rahman and L.A. Parker for digging around for this story:
Ex-Trenton officials: FBI used old plot to bait Mack
Hamilton's finance department has been upgrading, apparently.
The office is using technology to replace employees lost to retirement and attrition
. The robot apocalypse is coming, one Excel spreadsheet at a time.
As loathe as I am to link to a competitor, the Free Public Library of Hamilton has a great collection of art (which is also for sale)
on display
.
ICYMI:
Hamilton high school cleans mold problem and
Hamilton residents lose water service
And, for those of you talking about cleaning up municipal politics, imagine cleaning up after
this dog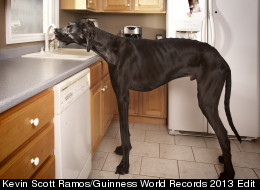 In closing, here is this gem from Yoko Kanno: